Aoife Sheridan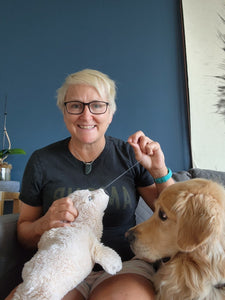 Aoife Sheridan - Bio
Growing up in Dublin in Ireland, there were always dogs in our lives – but without a doubt, the formative canine relationship, was with a stray Irish setter/collie mix called Ginger (it's not a great name for a dog, I admit, but he was named by all the kids on our street). He lived to be 16 years of age and was the greatest companion a girl could ask for.
When I couldn't own a dog, I would find ways to work with dogs – dog sitting for friends and I volunteered at the Society for Prevention of Cruelty to Animals (SPCA) A for a long time, which managed to give me the doggy fixes I needed.
More recently, my life has been taken over by Milo – a super sweet Golden Retriever (he's pictured here watching very closely as I perform "surgery" on Sealy, his favorite toy since he was a puppy).  
For me, becoming a dog trainer brings two of my greatest passions together – the first is helping dogs live their best lives and the second is to work with people, enabling them to forge stronger bonds with their pups. I'm thrilled to be working with the Who's Walking Who team under Stacy Alldredge and the team's guidance – a truly wonderful bunch of people.