Molly Gross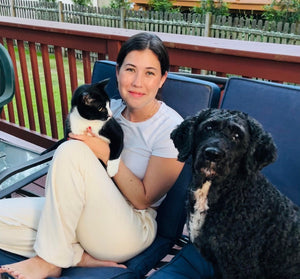 Hi, I'm Molly and I really like dogs! 
As a kid my favorite TV channel was Animal Planet. And in kindergarten, the only book I ever took out at "library time," was TheEncyclopedia of Dogs. I wanted to know everything about every breed, (mainly because I wanted to suggest to my parents the perfect dog for our family). If it was a perfect fit they would let me get one, right? 
It wasn't until a few years later that we finally got my family dog, Jessi. I was so excited! She was the runt of her litter, so she was on the smaller side, but she came out with lots of energy, and a very strong and determined drive.
When we got home, Jessi started using my arms as chew toys. So my dad signed us up for obedience training and that's when I knew I found something I truly loved doing. The connection and relationship I was building with Jessi, was something very special. I would get so excited when we'd master a new skill together.
I've always had a passion for helping others and that includes animals. I've worked with everything from Clydesdale horses and camels at the Bronx Zoo, to pigs and other livestock animals in a farm setting. I love just about every animal, no matter the shape or size. 
I'm excited to be able to expand my knowledge and skills in this field to help educate others on the importance and responsibility of owning a dog. I currently live in the East Village with my cat Owen, but you can find me dog-watching in Tompkins Square Park throughout the day.