Sara Jarrett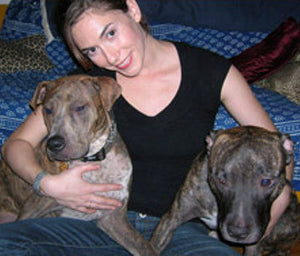 The first pet I was solely responsible for was a goldfish named Wally. Cleaning out his tank, feeding him and introducing him to new aquatic friends solidified my love of animals, even though now I prefer the kind with fur. Growing up in rural Oregon, my family always had dogs as well as goats, chickens, rabbits, cats and birds, but they lived outside.
In 2005, after living in NYC for five years, I adopted Porter, a Staffordshire Bull Terrier. He opened my eyes to the challenging and wonderful world of dog ownership in an urban environment. After a rocky start (he wasn¹t always the most courteous companion), we began working with Stacy at Who's Walking Who, attending obedience classes and daycare. The difference it made, both in Porter's confidence, and in my ability to calmly work through trouble spots, improved both of our lives immensely.
Though I was instantly fascinated with training and rehabilitating dogs, it wasn't until adopting my second dog, Sadie, six months after Porter, that I knew I wanted to delve further into the field. Helping Sadie, a pit-mix who didn't have the most humane start in life, overcome her fear and anxiety has been extremely rewarding. With the slightest breakthrough, I'm reminded that patience, leadership, fairness and love can help any dog beat the odds - and that every dog should be given a chance. I'm thrilled to now be helping dogs and their owners cohabitate peacefully.
When I don't have a leash in hand I write about dance, health, nutrition, fitness and wellness for a variety of national magazines.